Weddings and Gatherings
Skylark Shores Resort is the perfect venue to host your wedding, rehearsal dinner, birthday celebration, anniversary party, reunion or any other special occasion. The property features spacious, manicured lawns right on the shore of Clear Lake surrounded by old-growth oak and redwood trees.

We offer 45 rooms including cottages.

A beautiful manicured lawn with a capacity to seat up to 200 guests.

There are local party supply companies and catering services that allows you to rent supplies and will help you to set it all up.

For more information regarding fees policies and group bookings, contact us at 707-263-6151 or email us at info@skylarkshoreshotel.com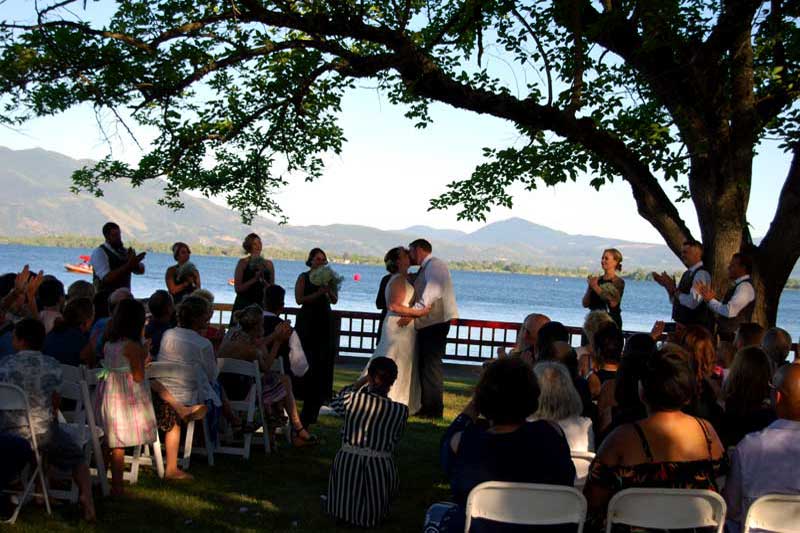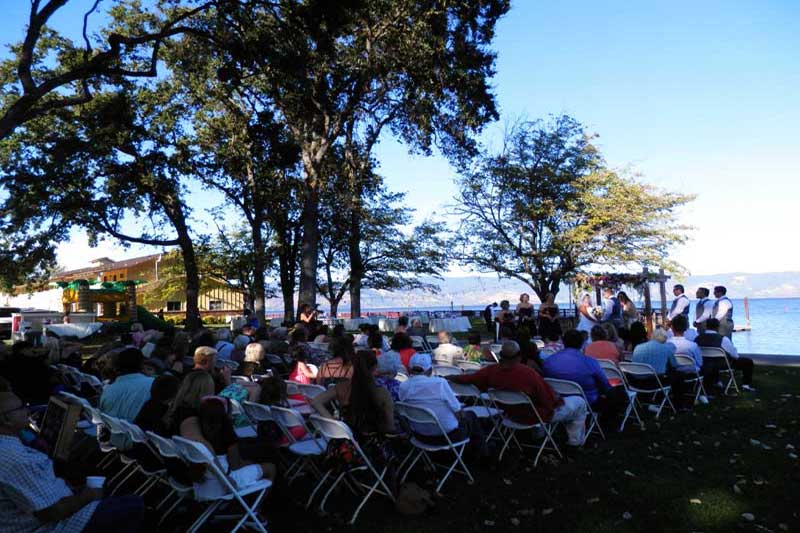 Lake County's scenic beauty, growing wine industry, and abundance of activities make it a perfect place to plan a wedding.
With halls, event barns, resorts, and restaurants that can handle large crowds, you're sure to find the perfect location for your event.
If you would like to experience natural beauty of Clear Lake, we have the views to prove it. Our legendary waterfront setting pairs up to create the perfect environment for the good times that fond lifetime memories are made of. We have spacious lawns that roll right up to the lake shore with breathtaking views of Mt. Konocti, Clear Lake's ageless volcanic companion. 40 rooms, 5 cottages. Open all year.
Northern California's Clear Lake area in Lake County offers a great wine country destination for wedding celebrations and other very special events. With almost 30 super premium wineries nestled among the lush rolling hills of Lake County, there is a destination for almost every taste and budget. From the pastoral setting of a wedding in the vineyards, to a lake-side celebration beneath centuries-old trees, Lake County has a lot to offer.
Whether you're planning an intimate celebration for just a few people or a lavish party for hundreds of your closest friends or family, there are so many choices in Lake County.
The shores of Clear Lake have dozens of resorts of all sizes and types, which present a beautiful opportunity for a wedding ceremony with California's largest natural lake as the backdrop.
There are also several brand new hotels and casinos which offer a terrific venue for wedding receptions as well as other functions. Offering a full-service experience, these properties have a lot to offer and can accommodate hundreds of guests for an overnight stay.
Expert planners, fantastic photographers, experienced DJs and other wedding professionals await the opportunity to share your wedding vision.
Best of all, the prices of this hidden secret are much lower than you might expect for a beautiful wine country destination location. Discover Lake County for your wedding celebration.
LAKE COUNTY FLORISTS
Bellissimo Wine Country Catering
Barbara has been in the food service business since she was a teenager where she was fortunate to work with one of the most successful caterers in Sonoma. A love of cooking and entertaining led to the opening of her first business in 1975. '"The Country Kitchen," a family style cafe, served breakfast, lunch and dinner was known for delicious home made pies and fresh baked sweet rolls.
Several years later Barbara opened "Salmina's Roadhouse", a dinner house, lounge and Inn. Barbara offered her customers a much more expansive menu with a wonderful selection of wines.
More recently Barbara owned "Creekside Deli" untill she sold it in 2005.
Presently Barbara owns and operates The Brick Oven Pizza & Pasta on Cobb, a very successful business that caters to the locals and provides affordable meals and pizza.
Lindys quality catering
Lindy's Quality Catering of Lakeview Supermarket caters and barbecues for weddings, company picnics, birthday & anniversary parties, service club projects, fundraisers, conferences & VIP Dinners, and we do elegant sit-down affairs too!
Our barbecues feature only USDA Choice beef, all cut and carefully hand picked by our butchers for your special event. For over 36 years we have had a reputation for the highest and best quality and service in our meat department. Lakeview Supermarket sells tens of thousands of dollars in meat every month to customers who come from all over Northern California.
One Call Does It All!
We bring everything from the barbecue pit, serving tables, napkins, plates, cutlery, and your complete meal selection including, if you prefer, appetizers, beverages, beer & even chilled champagne. When we are done serving, we pick up, clean up & leave you only memories of a marvelous meal!
Petals & Baskets - Rainbow Balloons
Petals & Baskets has been serving Lake County as Rainbow Balloons since 1983. They are committed to offering only the finest floral arrangements, beautiful wedding work, the longest-lasting balloon bouquets and beautiful decor for all special events. They back with up with prompt and friendly service. Their job is to make you look good!
Since starting the company as a small local balloon provider, they've expanded dramatically. Today Petals & Baskets primarily does flowers. However, as a Certified Balloon Artist, they still are very happy to provide balloon decor of all types and sizes.
In addition to flowers and balloons, they've expanded into gift baskets which has exploded. They offer a variety of themed baskets to give as gifts such as Bath & Body, Coffee, Tea and Chocolate Decadence and others. They are willing to design a basket perfect for any gift giving needs and can accommodate you whether you need a single basket or 100.
Of course they're very happy to deliver.
Limousines & transportation
They say that getting there is half the fun and our collection of limousine and transportation professionals certainly do their best to make that statement true.
Weddings Events, Skylark Shores Resort Lake County, Lakeport, California, CA, Hotels, Lodging, Accommodations, Hiking, Biking, Walking, Reeptions, Gatherings, Catering